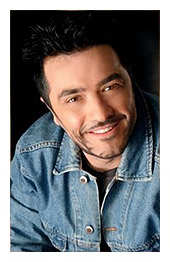 BIOGRAPHY | ANTONIO MARIA LANCUBA | SINGING COACH
Antonio Maria Lancuba is the Vocal Master, Melbourne singing teacher, and Musical Director at the AML Golden Voice Studios in South Melbourne, Victoria, AUSTRALIA. He is the founder and pioneer of the newly established singing school of "Natural Acoustic Singing" and "Open-Throated Natural Voice and Mother-Natural, Physiologically Strain-Free, Natural Vocal Production'. Since establishing the singing studio as a professional sole proprietor business, his primary aim and passion has been to bring joy and happiness to frustrated singers and non-singers alike in all genres of music.
Antonio is a master singing coach from Melbourne, and is passionate about what he does. He has committed himself to establishing an exclusive
vocal movement of learning in this new era of human history. His life has been a complete
sacrifice and motivation to understand and unravel the hidden mysteries and truths
of "Natural Singing" as
God intended it since the Genesis of human creation. Antonio is a qualified classroom
instructor in both Primary and Secondary (Private and Government) State School Systems.
He holds to his name the BACHELOR OF MUSIC Degree, GRADUATE DIPLOMA IN EDUCATION and
Italian Certificates and Diplomas in Singing Teaching and 'Bel Canto' Lyric Opera Singing.
Antonio is a singing teacher whose inspiration began when he was young. Since a very early age
Antonio has participated in varied artistic activities. These have included radio and Television
performances.
Antonio has been inspired by his mother's natural melodic voice and singing since early
adolescence and has also been greatly influenced by "Golden Era" opera stars, particularly
Enrico Caruso, Beniamino Gigli, Tito Schipa, Mario Lanza, Luciano Pavarotti and more.
Antonio's journey to becoming a singing teacher in Melbourne began in later years when he became a fully qualified Secondary School Music Teacher. He is enrolled as a full member of both the Victorian private and public state school systems. Antonio obtained the "Bachelor of Music Degree" (1990) and the "Graduate Diploma in Music Education"(1991) at the University of Melbourne. Since these qualifying academic years he has had Secondary School Classroom Teaching experience in both local (Victorian) and overseas (Italian) primary and secondary schools. Antonio has also taught English in the Italian 'English Private School' systems.
In 1991 Antonio moved residence to Italy after being awarded an 8 month "International Opera Scholarship" by the Italian government via the Italian Institute of Culture in South Yarra, Victoria. During the years 1991/1992 Antonio completed the first of the two year lyric singing course "Corso di Canto Per Il Teatro Lirico" (Singing Course for the Lyric Opera Theatre) at the Accademia D'Arte Lirica e Corale of Osimo (Ancona) Italy. Then intrigued by the phenomenon of natural physiology in singing and the correct art of natural singing teaching he decided to transition from the singing course to the art of singing teaching course. Antonio also initiates Natural Vocal Technique research and studies at the "Nuova Voce Studio" (New Voice Studio) under the guidance of Professor Marianna Brilla and Ms. Lisa Paglin. Pedagogy in Singing was one of the main focuses along with the developmental practical phase of singing studies.
In 1992 Antonio was invited by the "Abruzzo Region" to study with some of Italy's and Europe's most eminent teachers of 'Grand Opera'. He was later awarded the one year "Diploma Di Partecipazione Corso Belcantistico" (Diploma of Participation Belcanto Lyric Singing Course) by the ABRUZZO CLASS OPERA "Teatro Marrucino", Chieti, Italy.
In 1995 Antonio completes a two year teaching course and is awarded the "Certificato Al Corso Di Didattica Per L'Insegnamento Del Canto" (Certificate of Attendance for the Course of Teaching Methodology in Singing Teaching – academic years 1993-1995) at the Accademia D'Arte Lirica e Corale of Osimo. NB: Pedagogy in Singing was the main focus of the course.
Antonio has performed at major international venues and has taken part in concert programmes, musicals, live shows of varying musical styles, recitals, operetta and has guest appeared on RAI Italian Television.
Qualified as "Teacher of Singing" in all styles with specific emphasis on Natural Placement (Speech Singing) technique, Antonio continued to teach in Osimo (Ancona) Italy where his studio was set up until December 1998 at which time he was compelled to return home to Melbourne for family health crisis matters and personal health reasons.
In 1997 he became a registered 'Melodist Composer' of Copyright (S.I.A.E) Rome, Italy. He is a member and has participated in many promotional concerts of the "Nuova Voce Studio" (New Voice Studio) Osimo (Ancona) Italy. He has since written songs to be performed by local and overseas song artists and is a regular performing artist both in live cabaret and television. Antonio has also been a finalist judge in numerous singing competitions and is continually invited as such.
In 2001 Antonio became "Full Member" of:
1. A.N.A.T.S (Australian National Association of Teachers of Singing) no.ANATS696
2. A.S.A (Australian Singing Association) no.VLANA
3. V.M.T.A (Victorian Music Teachers Association)
In September 2001 he fully registered and officially opened his Singing Studio AML GOLDEN VOICE
STUDIO (for Singers, Artists, Actors and Performers) www.goldenvoicestudio.com.au (Reg.no.B1592586Z)
for vocal artists and aspirants in South Melbourne, VIC. He is currently working with
local talents, amateurs and professionals, who have serious intentions in pursuing this art-form
as a career (in All styles).
Antonio's Internationally Acclaimed Singing Masters of Vocal Technique and
Belcanto Singing Style from 1991-1998
Professor Marianna Brilla

(B.Mus. & M.Mus; Indiana University, USA. Researcher of Vocal Technique of traditional school
of Belcanto lyric singing style) And Founder and President of the "Nuova Voce Studio" (New
Voice Studio) Osimo (Ancona)
Miss Lisa Paglin
(B.Mus – Indiana University & Accademia Chigiana – Siena) Also Repetiteur
at accademia. Singing accompanist, Vocal Technique teacher, and Vocal Coach for "Grand Opera" repertoire.
Co-associate and Vice President of "Nuova Voce Studio"
Maestro Antonio Tonini
Personal piano accompanist of world famous 20th Century symphonic orchestral
and opera conductor ARTURO TOSCANINI. Maestro Tonini held the La Scala Orchestra pianist
position for many decades at La Scala Opera Theatre, Milan. And was reputed (till his recent death)
as an undisputed International Master of Belcanto repertoire and lyric singing Style.
Teacher of Opera Superstars of Romantic 'Golden Era' and post-'Golden Era' such as:
Beniamino Gigli, Licia Albanese, Tito Schipa, Giuseppe Di Stefano, Renata Tebaldi, Maria
Callas, Franco Corelli, Tito Gobbi, Afro Poli, Luciano Pavarotti, Renata Scotto, and many more.
Maestro Rodolfo Celletti
Renowned international opera critic and musicologist. Author of critique
articles in Opera journals, books, magazines, etc. Biographer of many famous past and present
Opera Stars. Also president of reputed Italian Summer Music Opera Festival "Martina Franca" for
many years.
Maestro Alberto Zedda
Reputed international opera conductor. Conductor of the "Rossini
Music Opera Summer Festival" (Pesaro, Italy) in past years. Recording conductor of many well
known opera records and CDs with well known labels such as EMI, Sony, Decca etc.
Maestro Mario Melani

Teacher of Vocal Technique and Belcanto singing style
Professor Denis Hall
Professor of Vocal Technique and Belcanto singing style from Zurich, Switzerland.
Maestro Fraiese
National conductor of the "Rome Opera Theatre" and
other first rated Opera theatres throughout Italy.
Maestro Samale
Touring national conductor throughout Italy.
Vera Bertinetti
Director and stage choreographer of Lyric Opera and Drama at
the "Rome Opera Theatre" and other international theatre venues.
Maestro Nicola Giusti
International piano accompanist, orchestral Conductor
and vocal coach of opera repertoire.