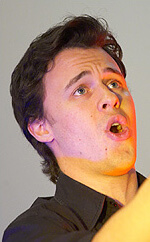 James De Montfort
I
remember listening to operatic music for the first time and immediately falling in love with the
beautiful melodies and the incredibly powerful emotional content.
But at the same time I found myself put off by the voices that sang this music. Of course, I was
not an expert in "Natural Voice Production" at the time, but something in the back of
my mind told me that these voices were unnatural. Coincidently it was at this time that I met Antonio.
I was informed that he was a singing teacher and I was curious to ask him his opinions on singing.
The small amount of information he told me struck a chord with me and I decided then and there to
take lessons from him.
However, I was not prepared for the amazing wealth of knowledge he possessed on the subject and
what he would be able to do with my voice. Antonio introduced me to some of the greatest singers
of the Golden Age including Enrico Caruso, Beniamino Gigli and Rosa Ponselle. I was absolutely amazed,
I had never in my entire life heard voices like these and I could not believe the freedom, power
and beauty that these singers possessed, and how they were completely different to the voices of
today. Finally I had discovered voices that I loved singing the music I loved. I was hooked and had
to learn how these singers sang the way they did.
Unfortunately when I started studying with Antonio my voice was extremely husky and I spoke with
a great deal of pressure in my throat. I had no power, no colour, no freedom, no flexibility, and
a fairly small vocal range. Yet after several months of lessons with Antonio my voice had completely
changed. He had released a huge amount of pressure from my throat, and had begun to open it up. I
could now sing with a level of power that I never thought would be possible in my wildest dreams.
In addition, I could now sing much higher notes; notes that I never thought I would be able to reach.
This was just the beginning. As I continued studying with Antonio, my voice became less and less
husky, more focussed, even more powerful, and my range continued to expand. I have come to learn
that "Natural Voice Production" is not just limited to one style of music, but is the
only way to sing all music whether it be pop, rock, classical, jazz or anything else.
Thank you Antonio for this wonderful gift, I will be forever grateful for all that you have taught
me!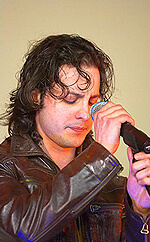 Antonio Rullez
I have been studying
singing with Antonio Maria Lancuba of the AML Golden Voice Studio since October 2000. Since then
Antonio has taught me to sing in a way that is uninhibited and totally natural, which not only protects
the voice but actually produces the most beautiful sound, with bone resonance emanating from the
entire body and a natural ring ("squillo") in the voice which is not often heard in modern
day singing. Moreover this singing technique has enabled me in my live performances, to freely engage
in any form of expression and/or dance that I desire, knowing that the voice is physiologically free
and totally supported by the abdomen and corresponding back muscles. The technique taught by Antonio
is not limited to any particular style. In essence, Antonio has taught me how to use the voice – I
have then been able to successfully apply this to any style of music that I wish.
I have been writing and recording music since February 2000 and recently, an international artist
manager and record company director came across some recordings of mine that I had placed on the
internet. The first thing that he was most impressed with was my voice – both the quality of
the tone and the beauty and emotion in my singing. Since then, this international manager has enabled
me to have signed a recording contract with an emerging international record label; consequently,
I will be releasing my first single overseas later this year. This would not have been possible without
Antonio's training and guidance. Antonio is more than a vocal coach; he enables one to realise
the full potential of one's voice not only through a mastery of vocal technique but also, via
use of the resonances of the entire body, through a deep connection to one's innermost thoughts
and feelings, thus producing singing which is indeed beautiful and inspired. Antonio is truly a master
of his craft.
Walter Musolino
I'd gone through 6 singing teachers
before Antonio. I was in despair.
Antonio has been healing my voice, my spirit. No more mere scales or singing a song stressfully
pushing. But tailored physiological work to unravel knots and tensions. What other teachers called
my limitations. Now, two and a half years of no blood but sweat – and occasional tears – I'm
starting to soar. So beautiful, like nature intended: so natural!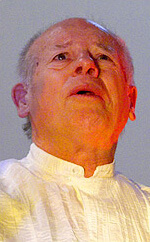 Ron White
(B.A., Melb., CAHRI )
I
came to the AML Golden Voice Studio after 38 years without a singing teacher, as a veteran of 5
teachers and a good deal of opera/choral experience.
I have now been learning from Mr. Antonio Maria Lancuba for 19 months and have found him to be
very knowledgeable in respect of the physiology of the voice and of the breath support; and of ways
to use the voice naturally for optimum effect.
Antonio bases his approach on that of the famous Italian masters of the "Bel Canto" school;
and he has a passionate belief in his quest for clean legato singing, with clear diction and an unforced,
untrammelled projection of sound. He pays great attention to the pupil's 'critical listening' ability
and insists (rightly!) on correct 'tuning' of the voice on all pitches and all vowels
within the compass.
Antonio has largely smoothed out my 'wobbles' (partly due to age and bad vocal techniques
and approaches) and has increased the volume and range of my voice. At my age of 71 that is a real
achievement.
Vanessa Giordano
My process studying with Antonio has been and still is one of incredible
personal growth and transformation in learning to connect with a far deeper understanding of my
voice.
When I first began singing lessons I learnt from a number of teachers yet I felt that there was
something more that I needed to know. Antonio has been my greatest (question & answer) advisor,
guide and mentor and through his guidance of the natural singing technique my voice has flourished.
The process of vocal studies itself has challenged me on every level yet these challenges have
helped to develop my voice. I started my lessons with a number of vocal problems which included complete
tone deafness, an imbalanced voice and a minimal understanding of music. However, even so, these
problems are currently being healed and corrected using an intense program of varied and focused
scale work patterns combined with a most unique and natural vocal singing physiology and natural
breath support mechanism. Under Antonio's guidance one feels a strong sense of security, assuredness
and trust based on his incredible knowledge and experience of the voice.
Through this study process and Antonio's dedicated teaching I am not only finding my voice,
but the voice that I am developing is that of my own. It has its own uniqueness and does not require
conscious effort to produce the sound. It is my natural voice. I am constantly surprised and excited
as I hear it develop and grow into newer wonderful sounds, multiple resonances, more extended vocal
range, colourful tone and liberated vocal freedom.
Studying with Antonio is a true gift. I have not only found a teacher but a musical mentor and
inspiration who believes and supports me in finding my voice and accomplishing my dreams. I recommend
Antonio with confidence and highest regard to those who want to find their true voice and be a student
of understanding the gifts that they have, because he is the teacher that will help you accomplish
this.
Caroline Chong
When I first came to AML Golden Voice Studio, I was tone deaf and had
no projection.
After studying with Antonio for a while and learning how to sing using natural techniques, my
tuning has significantly improved and I can be heard more than a few metres away without microphone
aids. Since learning about where the voice should be placed, how it should sit and where the vibrations
should be felt, much of the pressure that I used to feel when singing has gone and my voice is freer.
Moreover, the process of tightening my vocal cords and focusing the voice has allowed me to sing
with accuracy and precision.
More Personal Reflections……
At the beginning of 2005, I started studying the voice and singing at AML Golden Voice Studio.
Used to other methods, I got a bit of a shock when Antonio informed me that I would be singing scales,
and almost only scales, for the next few years. Before going to AML, and learning about natural singing,
I used to find it difficult to completely control my voice, pitching and range. However, after learning
and employing a natural technique, I am now finding that I am able to not only control my voice and
have a consistent range, but that I also added about half an octave to a range which I thought was
already settled.
Although I have worked on a few songs, I have mostly been singing scales, which are used to cement
a sound technical base for the voice. I am finding that gaining such a solid technique has been extremely
beneficial, as when I now sing, I am discovering that I do not need to concentrate so much on what
I am doing technically, and can begin to concentrate on other aspects of performing such as emotion,
stance and gesture.
Moreover, I have found that belonging to the AML Golden Voice Studio Choir, Voce D'oro, has
helped me to sing in a choral/group environment (and it has also introduced me to a lovely group
of people who are supportive and helpful.)
Before going to AML Golden Voice Studio, I used to find that when I sang, there would be a lot
of pressure on my vocal cords, which made my voice heavy and often hard to direct where I wanted
it to go. Since employing this natural singing technique, however, my voice has become much lighter,
and I now do not have to worry about the continual pressure that I used to feel. The other benefit
of my voice being lighter, is that I can move it with more agility and in the direction I want it
to go, as opposed to only being able to move it in a limited way. Another thing which I have noticed
is that my clarity and diction is much clearer and I can be understood much more easily.
In sum, I have found that my voice has changed dramatically (for the better!!) over the last three
years and I am able to produce sounds and notes that I only ever dreamed of before. Without this
natural technique, I know that I would never be able to produce the quality of singing which I am
now finding I have.
Nick Rowe
Antonio
understands singing. It is that simple.
Listen to the best singers in the world and they all have one thing in common, great technique.
This is what Antonio teaches to his students, the same technique that all the best singers have understood.
Yes it takes time and one must be patient. However, the rewards are amazing. So if you are
patient and you want to learn to sing like the best, look no further. All the proof you
need is in the results.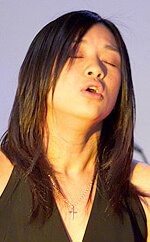 Jennifer Cheng
After
resisting and fearing the idea of vocal lessons from years of observing singing teachers and their
techniques and logic that requires "putting on" a particular voice and sometimes distortion
of the body, I finally met Antonio, a person who truly understands and believes that singing should
be done as naturally as speaking.
Antonio is not just a singing teacher, he is an expert in general voice production. I have discovered
the potential of my natural voice and it has been enhanced, not changed, by Antonio's instruction
and coaching, and through learning about the physiological aspects of the voice, we've worked
towards resonance, not belting or yelling or whispering to try and sound sweet. It's amazing,
and it is entirely natural!
Many vocal students end up being unable to sing in music styles besides the one they were coached
to sing, but because Antonio's teaching is focused on natural voice production, not a specific
style of music, I am not limited to singing classical, pop, rock, jazz or any other music genre,
I can use his logic and techniques to sing across any style, I am only limited by my own preferences!
Antonio has been the only teacher I have been willing to take lessons with – the voice is such
a precious instrument – and I know that as long as I am passionate about music and voice production,
Antonio will provide the best guidance to me, to find the most natural way towards the 'Golden
Voice' that touches not only ears, but hearts too.
Marion Lathem Binks
I came to Antonio as a mature student who had never had a voice lesson,
and was immediately impressed with his enthusiasm and knowledge of technique.
He told me that my voice had the potential to develop into a big dramatic contralto – hard to
imagine when it started as such a small, weak instrument.
Now, after just over two years hard work, all that Antonio promised is coming true and I have been
given solo roles in concerts outside the studio ranging from early church music to Gilbert & Sullivan.
I look forward to continuing the journey to become a well respected classical singer.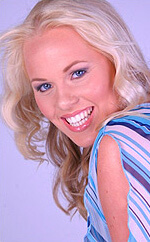 Alia Milano
Alleluia! Finally a singing teacher who knows how to work my individual voice and develop my inner
talents and abilities. I have worked with many singing teachers and have not felt so relieved and
excited as I have felt with Antonio during our singing lessons. I feel comfortable and in control
with my singing. It just feels right and the results are just delightful and so real! Thank God for
Antonio and his gift and wonderful passion for teaching singing. I can now finally see myself achieving
my singing goals and beyond. Thanks to Golden Voice!
Thanx Antonio
Rebecca Thomas
When I first came to the studio, my sound was very breathy and quiet, but after working with James
and Antonio, my voice has sealed up a lot, and become very powerful. My tuning is much more consistent,
and I can definitely be heard nowadays!
Melanie Mills
I have been having singing lessons with antonio for two years. I had previously done singing lessons
with many other teachers but never gained such results. Now when I sing I feel absolutely no strain
but only pleasurable resonance and elastic tension. Antonio not only shows me how to sing freely
but also teaches me what is happening in my body. Antonio works with me on my needs and at my pace.
My voice has improved greatly since learning from Antonio and I recommed his teaching method of Natural
Voice Production to anyone who loves to sing freely and wants to meet their potential.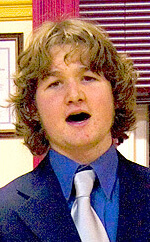 James Coyle
My name is James
Coyle, and ever since I joined the AML Golden Voice Studio in South Melbourne, Victoria, I have discovered
amazing changes in my vocal technique, performance standard, and general comfort while singing. It
has become a lot easier to sing in all genres and not only that, I have found new power in my voice
that shocked my friends and family after only a bare few productive lessons. My work with Antonio
Maria Lancuba has been extremely progressive throughout my short stay of 1 year at the studio, and
I have not only developed a range I once thought impossible to achieve, but my general happiness
and confidence has increased to a level where I anxiously wait for a chance to sing in front of a
crowd. I have noticed a great difference between the teachings of the studio compared to other previous
singing teachers I have learned from in the past. The method I now use can only be explained by me
as ….free. The work I do with Antonio just seems right, my instincts tell me that if I continue
on into the future with this studio's "Natural" acoustic approach to singing and singing
physiologyI will become the best singer possible that nature has allowed and intended me to be.
Adam Lane
I had wrecked my voice from years of incorrect singing. It got to the stage where I couldn't even
sing 2 songs in a row. So I typed "the best vocal training in Melbourne" into Google and
it came up with Antonio's studio. I've only had about 10 lessons and I'm singing about 50 billion
times better now. There are so many simple little things that he explain's that make so much sense.
That you just wouldn't have thought of yourself. I was very hesitant about coming, since I come from
a Rock background. But I still feel very welcome. I can now sing a whole gig without a problem. And
I love how he says it like it is. If you don't do something right he pulls you up straight away.
And I think that's really important. He really wants to get the best out of you.
Kate Brisley
I'm so grateful for having met Antonio and had the wonderful privilege of him teaching me
how to sing properly. Like most singers I've always dreamed of being able to master my voice
completely and to experience the full potential of it, without struggle. Before my lessons with Antonio
my vocal inconsistencies were always something that held me back and in the end almost made me give
up on doing what I love. I have never experienced a teacher like him in all my years of lessons and
truly believe him to be the best there is. Antonio has a gift from god in knowing how to teach voice
and will do his up most best in developing you to be the best he knows you can be, whatever your
starting point! With passion and commitment to proper vocal technique he ensures you have as much
knowledge as possible in understanding the mechanics of your voice, therefore freeing your voice
to sing whatever you desire. He is clear and precise in what he wants you to do and his instructions
are always backed with an explanation. Freely offering his wisdom to all students, his lessons are
insightful and interesting to take. Once you experience its results, each time it inspires you to
go further. What ever singing path you choose he can make it happen. He is a true master and has
something magical to offer anybody who wants to sing.
Indrani Haryono
I began lessons with Antonio a little over a year ago and haven't looked back. Prior to this
I'd been to a couple of the bigger name singing schools in Melbourne, and had worked privately
with a variety of different vocal coaches. Although these lessons did give me confidence to get out
there and start working as a singer, I felt that my voice was extremely limited. I had a strong "belty" lower
range, however when my voice would break it would become quite weak and airy, which meant that I
often had lower the keys of songs to adapt to my voice and range. I was gigging on the weekends,
however found myself unsatisfied and unhappy with my singing technique. After doing three hour sets,
my voice felt extremely croaky, husky and tired
I'd previously questioned teachers as to how to achieve certain things with my voice, and
was given a metaphorical approach such as 'imagine you're singing to the clouds" etc.
The wonderful thing about Antonio's approach is that it gives you something tangible to work
with, due to his astounding knowledge of the human voice and the mechanics behind it.
In the past year my voice has changed so much, I barely recognise it! The breaks in my voice that
I found so restricting are practically non existent, there's a ring in my voice that I previously
wasn't able to achieve, and most importantly, when I sing I no longer have to strain my voice
and body to achieve a strong powerful sound. These are techniques that have been invaluable, and
techniques that can be applied to any genre of music. Antonio is an encouraging and inspirational
teacher, and I'd recommend him to anyone who's serious about vocal health.
Heidi Sattler
Antonio you are the maker of dreams never thought possible. I now have the confidence, range and
power in my voice I have strived to achieve for years with other teachers. Your patience, strength
and guidence inspires me. I'm fortunate to have a teacher who has the same passion and determination
for my dreams to come true as I do.
Success Stories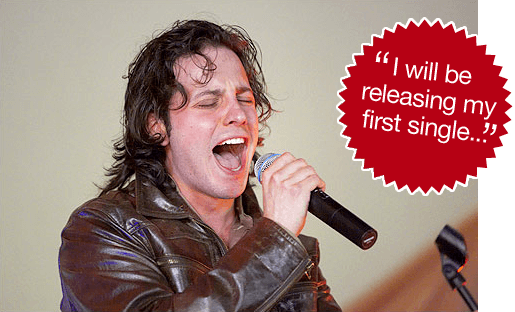 Antonio Rullez
I have been writing and recording music since February 2000 and recently, an international artist
manager and record company director came across some recordings of mine that I had placed on the
internet. The first thing that he was most impressed with was my voice – both the quality of
the tone and the beauty and emotion in my singing. Since then, this international manager has enabled
me to have signed a recording contract with an emerging international record label; consequently,
I will be releasing my first single overseas later this year.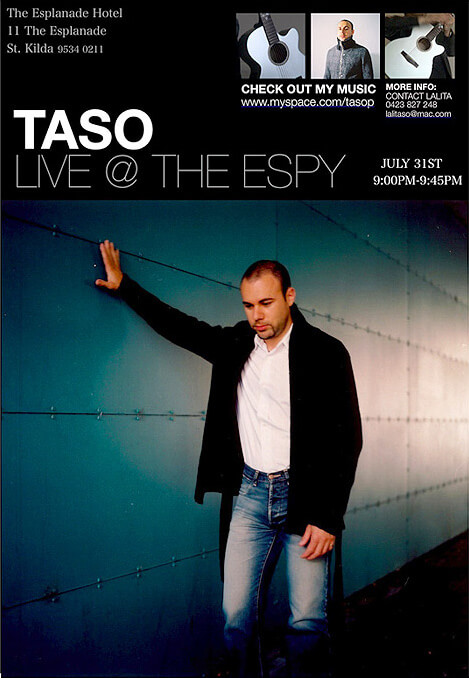 Taso Psychoulas
Taso holds a Bachelor of music degree in Guitar Performance which he completed at the Victorian
College of the Arts in Melbourne Victoria. He has also studied guitar at Melbourne University and
the Brisbane Conservatorium of music ( where he is originally from, in Queensland). In 2002 Taso
was the esteemed winner of the Austral Salon Scholarship.
Taso continues to perform extensively around Melbourne and has performed solo guitar recitals in
such venues as Chapel off Chapel, Athenaeum Theatre, National Art Gallery, Melbourne Museum, Botanical
Gardens, St Peters Church and within the VCA campus itself.
As well as having been in residency at the Versace Hotel on the Gold Coast, Taso has also been
invited to play for such exclusive guests as World renowned concert guitarists John Williams, Slava
Grygorian and Rupert Murdoch at his own private estate.
Alongside his accomplished skills on Guitar, Taso is also a professional singer. Having been involved
with the Melbourne Opera in 2003-2004 during which Taso was casted in 'La Traviata' and 'The Pearl
Fishers' as a tenor. Taso currently performs extensively around Melbourne and has launched himself
as a singer/songwriter. Recently he released his first EP titled "Time to Know" and has
been promoting it in venues such as 'The Esplanade Hotel', 'Club Evolution', 'The Great Britain Hotel',
'Empress', 'Caz Reitops Dirty Secrets', and has enjoyed residencies at 'Barbukka', and currently
at the 'RACV new Members Club' in the city. Taso is planning to launch his first album early next
year.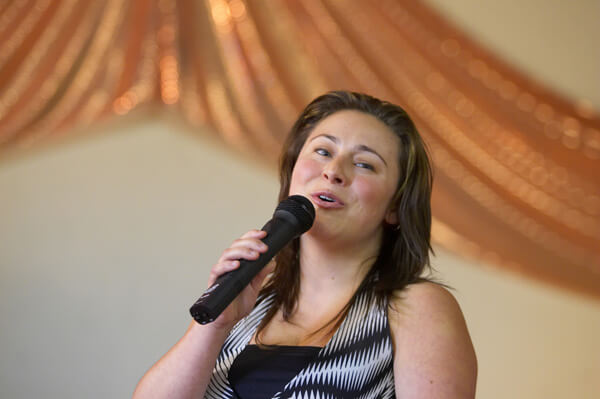 Heidi Sattler
With the vocal training that I have received from Antonio at AML Golden Voice Studio, I had the
confidence in my voice to go for the Jazz course audition I have been wanting to attend for years.
I succeeded and now all the closed doors I spent years looking at are opening.
Finally my singing career is taking off and I'm heading in the right direction through my life.
Soon I will be starting a band of my own!
Thank you Antonio!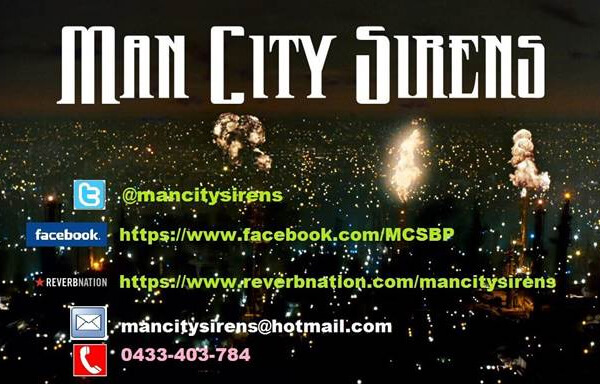 Walter Musolino
Man City Sirens
From aching throat and tortured muscles after two to three hours of singing (pushing for sound,
for power) before receiving Antonio's help, to concentrated calmness and soaring freedom while mesmerising
small audiences after Antonio's intervention and miraculous help. Antonio has taught me to "hear" my
body, to "feel" my vocal sound and thus to release my "TRUE VOICE" : cleansed
of muscle tension, supported by "open – throatedness" and effortless breathing.
Now girls gaze and men wonder. You can see the quiet "WOW" in their eyes. At the Espy,
the Hard Rock Cafe, the Evelyn, the Vineyard, the Fringe Festival and more.
The last twelve months have been an amazing release!